What's up, my bumblebees? So after I shared
my own beauty tips
, I feel like reviewing one of my favorite cleansing product. It's
Bioderma Sébium H2O
that all beauty bloggers have raved about.
I wasn't that interested in using water cleansing formula back then before because I thought water can't really dissolve makeup, especially the waterproof ones. But I was wrong! Let me tell you why, just keep reading :D
Description: Purify and cleanse your imperfection-prone skin with the Bioderma Sébium H2O, a regulating, non-rinse micellar water cleanser. Designed for those with combination to oily skin, the soap-free formula can be used on the face and other imperfection-prone areas of the body, such as the chest and back. Sébium H2O cleanses the skin in depth, and improves the quality of sebum production with the patented Fluidactiv® complex. The non-comedogenic cleanser removes impurities using micelles, which micro-emulsify and remove impurities without drying the skin out. It guarantees perfect cutaneous tolerance, leaving the skin is left looking clear and feeling fresh.

They say it's sold one in every 15 seconds worldwide, which I think it indicates how good this product is, right? As a cheaper alternative to the Clarins cleansing water, finally I bought the one for combination/oily skin because I have oily combination skin (oily T-zone, the rest are normal).


Ingredients.

Directions: Use twice daily, in the morning and in the evening. Soak a cotton pad with the solution, and cleanse the face and eyes. Repeat with more cotton pads until they come away clean. The solution is no-rinse, but you should gently dab your face with a clean towel after use.

Although it's stated you don't need to rinse, I strongly advise you to wash your face again since this is only the first step when I do double-cleanse. It's alcohol free, soap free, no coloring formula. The product can last for 9 months once the packaging is open.

Packaging wise, it looks just okay, unlike the 500ml one, the 100ml and 250ml packaging do not come with a pump. The bottle is safely sealed at the first time so you don't need to worry people try to sniff it whatsoever.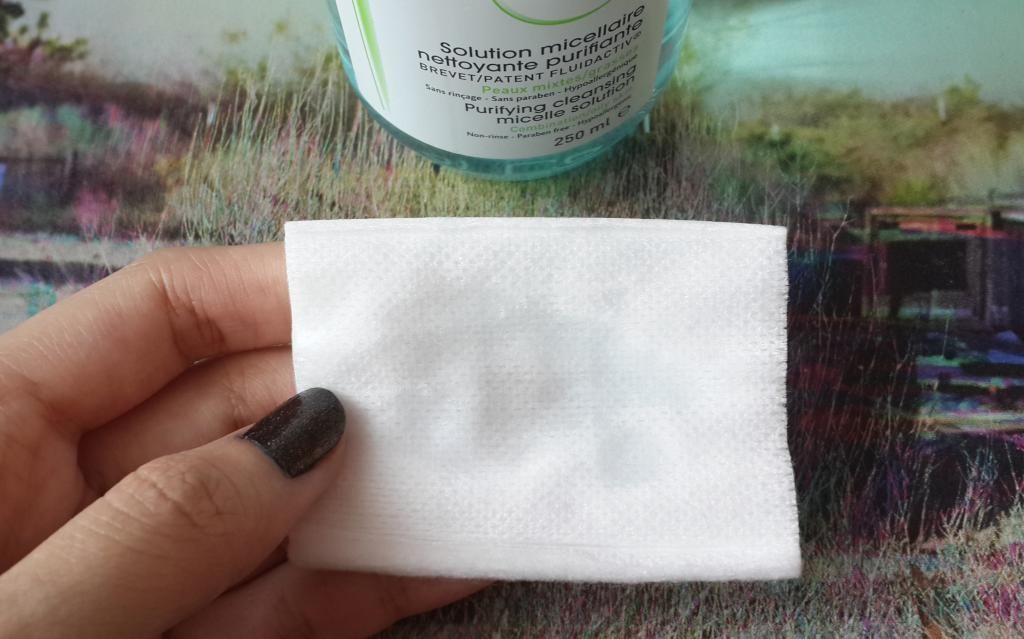 The cleansing water tinged with turquoise.
Foolish me thought the turquoise color comes from the bottle, apparently not! LOL. The color comes from the water. I thought because there's no added colorant, then it will be transparent like the
Sensibio H2O
. There is a slight fragrance too, but it's just subtle and smells pleasant to me.
Performance wise, it effortlessly takes off all my make up and it doesn't sting my eyes. Not only that, it also removes excess oil without over drying the skin. My face simply feels clean and refreshed without tightness. It can take off my waterproof eyeliners too. The only downside is it doesn't remove my liptint, thus I have to get my makeup remover separately for that one.
Price
: SGD 28.75 per 250ml or SGD 15.90 per 100ml (
Get 15% off at CupoNation
!)
---
So have you read my previous
Make Saving Money Fun
post? I told you bumblebees that another way to save money is to get discount right? We all know how convenience online shopping is nowadays, it doesn't only save times and energy but it also saves your fuel! If you haven't tried it yet, I suggest you try it at least once in a lifetime, there's nothing wrong to experience it.
However, only purchase from an online store that is trustworthy or recommended by lots of people. My favorite ones are Zalora and Reebonz! There are literally lots of things to get there, you can buy things for yourself or even gifts for your loved ones. To save some more money, here's the trick: find
a site where you can get discount or deals
like CupoNation. They cooperate with many trustworthy online stores as well as huge company such as Sephora and The Body Shop. And since I am someone who loves to dine out, I'm glad that
CupoNation's offers
are not merely for beauty & fashion, but also for food & drink. My suggestion in finding the right coupon (to prevent impulse buying) is to browse by categories, they have 17 categories FYI :O
Anyway, simply check out their website to find out more deals they have right now!