Bikini season is coming! Time to get rid those unwanted hairs. I'm going to share a temporary method that I regularly do every twice a month. Depilatories, more commonly known as hair removal creams, work by breaking down the hair's protein structure so that the hair comes out of the skin easily when you rub off the cream.
Nair Pretty Hair Removal Cream in soft raspberry
Product description
: A delicious smelling formula sensitive to the needs of younger skin, enriched with added moisturisers with a delicious raspberry fragrance, this cream works in as little as 4 minutes to leave skin silky soft.
This is my favorite hair removal cream in Indonesia. LOL! You might hate it but I've got no other choice as it's the best I can find in the drugstore. My first hair removal cream was Veet, but to be honest, 'Indonesian' Veet stinks, I really hate the smell, it stays on my bath room for hours! It made my skin dry and again, stinky. I heard they relaunched the product, with new formula, better packaging and spatula. But would I try? No, thanks. I read from the unsponsored review, it still smells awful and even stings the skin.
During my stay in Singapore, I ran out of hair removal cream, so I went to buy one. Sorry for forgetting which one that I got, but it was from Nair for sensitive skin and it was so damn good. It came with a free pink spatula that I admitted was the most amazing spatula I've ever used (talk about that crappy green spatula from 'Indonesian' Veet).
While when I stayed in New York, I prefer using
the one from Veet
. Yes, it is completely different from 'Indonesian'
Veet
!! I bought it at CVS, and was happy because of its great size! On top of that, it is CHEAP. Muahaha! The joy of shopping in the States! FYI, 'Indonesian'
Veet
costs me around IDR 20k (equals to USD 2) per 25ml for one time usage on my legs and arms area. While the US
Veet
contains 400ml and you can buy it for only USD 9!
Once again, you must follow the exact directions!
Let me quote the cautions:
Irritation or allergic reaction may occur with some people, even after prior use without adverse effect, therefore test before each use by applying product to a small part of the area where hair is to be removed. Follow directions and wait 24 hours.
If skin appears normal, proceed with full application. Do not use on irritated, sunburned, inflamed or broken skin. Do not use on face, around eyes, in nose, ears or on breast nipples, perianal, or vaginal/genital areas. Avoid contact with eyes. Keep out of reach of children.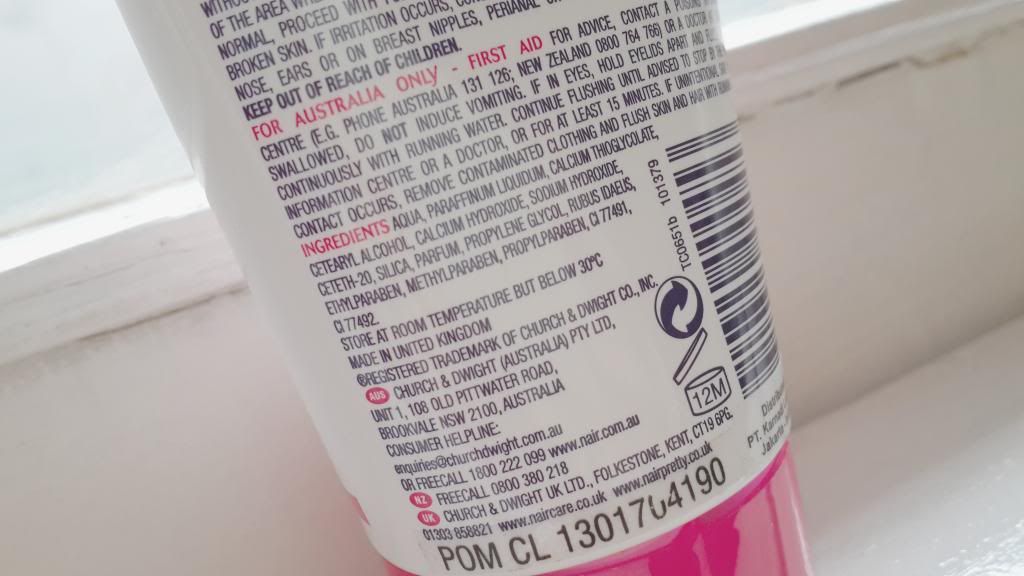 What more can I say? Using hair removal cream is easy and painless. It is unlike razor blade, no nicks and cuts. With shaving, stubble would resurface within two or three days. You might say, go for waxing then, but hey waxing is extremely painful! I actually have a high tolerance on pain, well, I do facial, chemical peeling, whatsoever, I can say they're like moderate pain. Meanwhile, waxing is 9 out of 10 for me (though it depends on which area you wax). I swear, using hair removal cream is what I prefer. The result lasts longer than shaving anyways. A week of smoothness sounds pretty good, doesn't it?
Remember not to soap your skin after hair removal. Don't use a body mist or anything that has perfume in it! Instead, I recommend you to spray
Avène Thermal Spring Water
. Wait at least for 24 hours if you want to use body mist. Alternatively, you may spray the perfume to your clothes. Please note that it is important to exfoliate your skin no matter what method of hair removal you choose to prevent ingrown hairs!

All in all, I do recommend this brand to those who are new to hair removal. Don't worry that the grown hair will grow back normally, neither thicker nor darker. Really normal.


What I like:
nice fruity scent
moisturizing ingredients
gentle for sensitive skin
suitable for legs, bikini and underarms
What I dislike:
parabens detected (methylparaben, ethylparaben, propylparaben)
Price: IDR 80k
---
IU - My Old Story.
Have you listened to IU's new mini album titled A Flower Bookmark? I am not sure if I like this album, it's kind of a different genre to what IU usually sings. All of the songs are apparently a rearrangement of Korean oldies. However, I like the MV!