Happy Easter, dear bumblebees! Another circle lens I'll be reviewing, it's from Sincere Vision a.k.a the third largest colored lens brand in Japan. Oh, if I'm not mistaken, this should be my first Japanese circle lens I've ever worn. Just like the wise old sayings, it's never too late to try ;)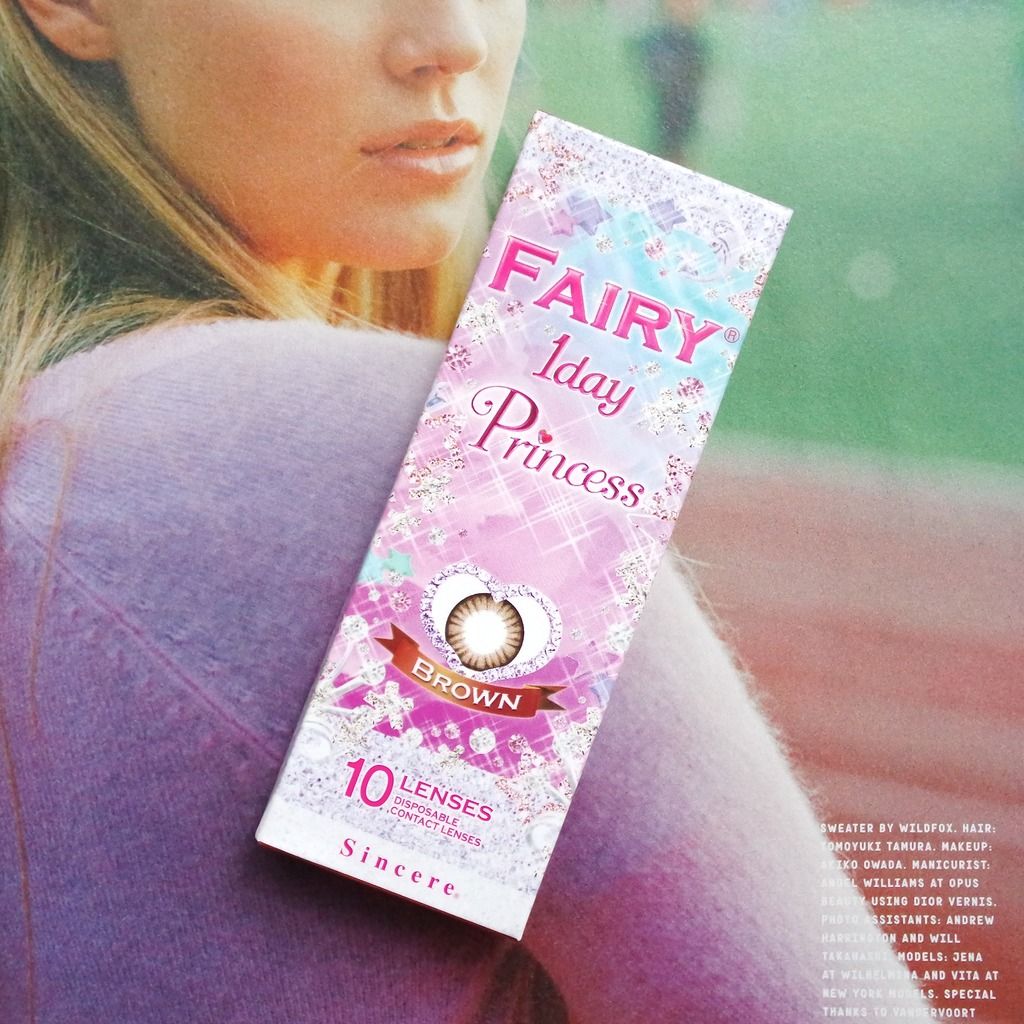 So they recently launched daily disposable circle lenses collection called Fairy 1day, available in Natural and Princess just like their monthly disposable ones (well, minus Queen). I picked the Fairy 1day Princess collection in brown because I am in love with the design, I can foresee how it will suit my everyday's look, which I tend not to wear heavy makeup.

Specification of Sincere Vision Fairy 1day Princess:
Power Range: 0.00 ∼ -8.00
Diameter: 14.2mm
Base Curve: 8.7mm
Water Content: 38%
Lifespan: 1 day disposal
Design
: 4 out of 5
I like how the design focused more on the outer corner of the lens. The large clear area on the center lets the natural eye color to be shown. Moreover, it has limbal ring for enlargement effect.
Enlargement
: 5 out of 5
Its 14.2 mm diameter and bold limbal ring design is dramatic enough to give me an illusion of bigger eyes.
Comfort
: 5 out of 5
Daily lenses never cease to amaze me. My eyes are a bit sensitive when it comes to new contact lens brand, especially when this lenses' water content is only like 38%. Surprisingly, it's just as comfortable as my other daily lenses.
Overall
: I would love to wear this every day especially when I'm wearing a no-makeup-makeup kinda look. The design looks so natural even though they have their own daily natural collection. Anyway, I prefer this one as I love the limbal ring!
Price
: USD 22.50 per 5 pairs
If only daily disposable lenses would cost the same as the monthly ones, I'd be forever attached to it LOLOLOL.
for promotion update and real life photos!
P.S
: Insert my coupon code
10MITCH
at the checkout to get 10% off! No minimum purchase required ;)